Supply Chain

87903

23/05/2023
The
overview
You'll have an important and highly varied role to play at your CCEP site. When a production line or machinery breaks down, you'll react fast and use your technical knowledge to solve the problem. When everything's working well, you'll carry out checks, risk assessments and inspections to pre-empt any issues.
Working as part of our Production Team, you will report to the Production Manager on site and will be required to safely operate and maintain machinery and production lines. This will include all aspects of canning, glass and bottle lines to ensure the highest quality of production of all Coca-Cola beverages. A willingness to work 12-hour shifts covering days and nights is also expected.
There are a number of career paths open to you if you join our Supply Chain operation as a technician. Below is an illustration of one of the routes you can take. Apply to find out more!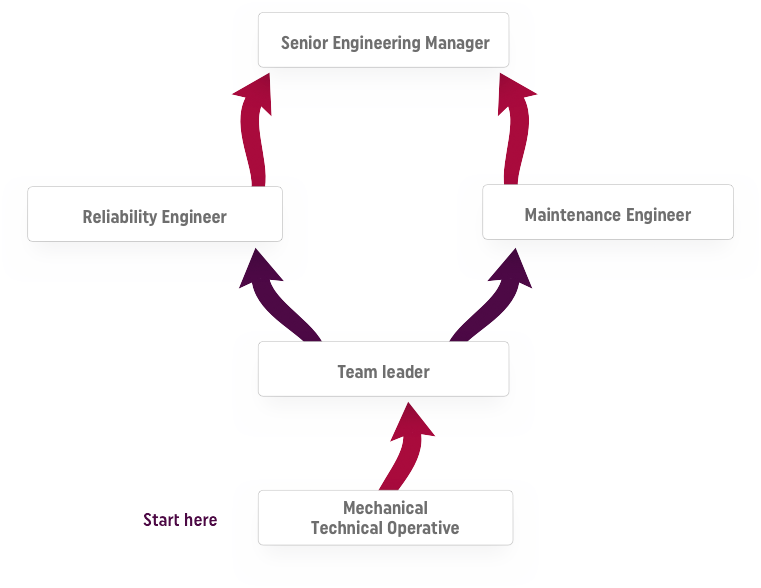 Lab Senior Technician Operative - Production Quality Assurance and Micro, permanent - East Kilbride
East Kilbride, United Kingdom
Supply Chain
23/05/2023
87903
Senior Lab Technician Operative - Production Quality Assurance and Micro, East Kilbride
Shift based (days and nights) – 42hr Annualised Hours (over 7 days)
Annual performance related pay bonus + Share scheme + Competitive pension contributions + Laundered uniform + All safety equipment provided + Subsidised canteen on-site + Free hot and cold drinks + Free parking + Overtime available + Excellent parental benefits
What you become part of:
East Kilbride Operations produce 20 million cases of drinks per year across their 6 production lines - 2 glass bottle, 2 PET bottle (plastic), and 2 pouch lines This is the only site in GB that produces our Appletiser products in glass. There are ~204 employees on site and experience here can lead to excellent career opportunities both in East Kilbride and further afield across other GB sites and Pan-European locations.
What to expect:
In this role you will work as part of our QESH Team, conducting and verifying laboratory and online testing, equipment certification, calibration and metrology as well as being a guardian for Quality on shift for product performance and site standards. Key responsibilities include:
Primary contact for Quality on shift

Conducting analytical, sensory and microbiological testing procedures in a consistent manner

Carrying out expert analyses, escalating concerns when necessary to ensure protection of QESH standards, playing a key role in investigation.

Monitor and ensure product compliance performance, supporting the operations teams, with both hands on training and troubleshooting on shift.  Conduct administration tasks on Quality monitoring system.

Undertaking the calibration programme to assure that key QESH measuring equipment is delivering accurate results

Taking pride in upholding the agreed ways of working at the site to ensure the site is a great place to work and follow site safety policies and best practices to ensure safe-working for self and to protect the safety of colleagues to demonstrate zero accident behaviour including site hygiene standards

Supporting the delivery in the implementation of site Quality Plan.

Supporting the QA Lead and teams in order to ensure all Quality objectives are achieved, audit actions closed and embrace team working and flexibility in tasks allocated, to support the achievement of team/department/site objectives and own career development

Conduct enhanced sensory testing of finished product for site with proactive testing to maintain positive release principles and ensure product conforms to expected standards with involvement in Proficiency testing and ad-hoc testing routines.

Driving GMP standards at site, via completing audits, continual improvement initiatives, personnel interactions as well as supporting with the education within laboratory peers and wider teams.

To write and develop laboratory procedures, conduct training and verification against these within the laboratory, ensuring training records are maintained and presentable.

To control the non conformance process on shift, initiating control measures as well as data capture and provide a preliminary investigation to the Quality Manager. Ensure learnings are shared across the shifts.

To play a key role in Root Cause Analysis for all blocked stock incidents and out of specification parameters for Micro, coupled with the implementation of Conditions for Success in Micro.
Skills & Essentials:
Experience of working in a FMCG environment

Practical experience and understanding of Quality Assurance principles with good project management /organisational skills

Good working knowledge of systems, in particular Microsoft Office

Good microbiology understanding is beneficial and/or proven experience in this field

Qualification in HACCP beneficial (level 3 and above)

Experience in an analytical testing, working to ISO standards.

Eligible to work in the UK
Coca-Cola Europacific Partners (CCEP) is a major fast-moving consumer goods business and the world's largest independent Coca-Cola bottler. With a dedicated team of 33,200 people, serving customers in 29 countries, we make, sell and distribute the world's most loved drinks brands to more than 600 million people, including Coca-Cola®, Fanta®, Powerade®, Glaceau Vitaminwater®, Monster® and Capri-Sun®. And we want a workforce as diverse as our products – with a culture that fosters belonging and inclusivity. One that enables everyone to be themselves, whatever their background or experience. From gender, age and ethnicity to sexual orientation and different abilities, we welcome people from all walks of life and empower unique perspectives. We recognise we've got some way to go, but we'll get there with the support of our people. It's them who drive our future growth. To find out more about what it's like to work at and our culture we would welcome you to speak to one of our employees on our live chat platform, just click here to speak to an insider
Apply
Meet
our people
I'm working on the new line 4 at the moment, which will produce Monster and Relentless
Abi Teeley
See Abi's story
The
benefits
There are great benefits for hitting your targets and delivering a great customer experience. You can look forward to:
A market-competitive salary
Bonus scheme for delivering high performance
Flexible benefits programme for you and your family, covering savings and finance, wellbeing and lifestyle
Pension and share plan to help you prepare for the future