Retail (grocery) Merchandiser - Wimbledon

Commercial: Field Sales

70483

10/04/2021
The
overview
People know and love our brands like Coca-Cola, Fanta, Dr Pepper and Sprite. As an ambassador for CCEP, you'll bring them alive, making sure they are always available to consumers and providing a fantastic experience to our customers. They could be supermarket chains, local convenience stores, wholesalers, restaurants, cafés… or many other outlets.
Along with the ability to build a great rapport with customers, you'll need a solution-focused approach to business problems. We also look for the determination to thrive in a fast-paced, rapidly evolving environment A driving licence is essential, and you'll need to be eligible to work in your chosen location.
Many Field Sales Representatives and Merchandisers are happy to stay in the role, giving their best and earning high rewards. But it can also be a springboard to move into national and key account management, or a sales management or merchandising team leader role. An example of a potential career path is here: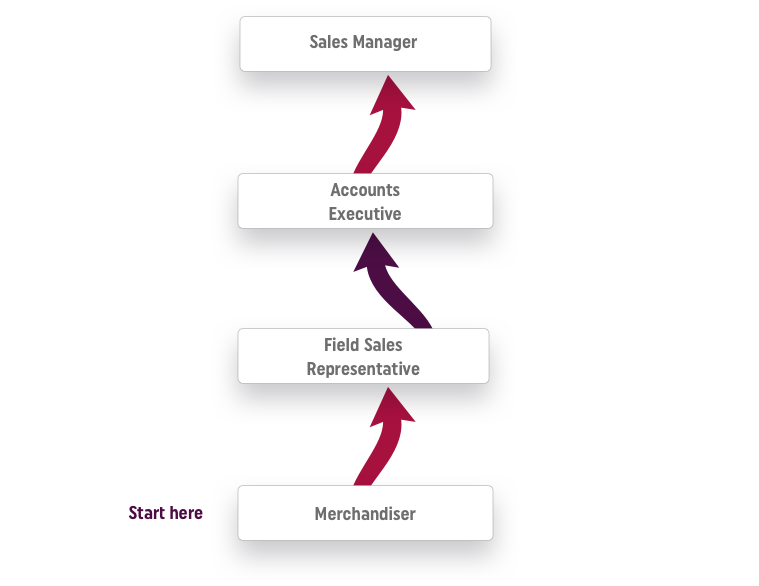 The
role
Retail (grocery) Merchandiser - Wimbledon
Location:

London, United Kingdom
Outline of the role
From a secret recipe to a bold idea and very proud traditions, we build the future. Coca-Cola European Partners (CCEP) is a major fast-moving consumer goods business in Europe and the world's largest independent Coca-Cola bottler.  Across 13 countries, our employees make, sell and distribute the world's most loved drinks brands to more than 300 million people. Some of the brands you will find in our portfolio are Coca-Cola®, Fanta®, Powerade®, Glaceau Vitaminwater®, Monster® And Capri-Sun®.
Leading brands, great people and a focus on (personal) growth that comes with it.
Do you like to be able to influence and make a difference?  Does a fast paced environment suit you?
Do you enjoy working in a multi-functional environment with a desire to succeed?
At CCEP, we want to provide a workplace where people are inspired to be the best they can be.  We know that engaged, motivated employees, working to their full capacity and able to reach their personal career goals, are a critical part of our Company's long-term success.
Retail (grocery) Merchandiser - Wimbledon
Full-Time 37.5 hours per week
Join one of the world's most recognisable brands as a Grocery Merchandiser within our field sales team. This entry-level position will provide the perfect starting point for a career with Coca-Cola European Partners, enabling you to develop your skills with best in class training and support.
The Day-to-Day Role
Your role will be to increase the availability and visibility of our iconic beverages, ensuring compliance to any national agreements across Supermarkets and Convenience outlets within your territory through;
•    Checking any store priorities prior to the call
•    Signing into the store and introducing yourself to key store contacts.
•    Merchandising CCEP products, ensuring stock is on sale on the shop floor and displayed as agreed.
•    Investigating and resolving any availability issues by working with store contacts and your account executive where applicable
•    Making sure any current promotions are activated and in line with the nationally agreed plan and that they are full and priced correctly. 
•    Ensuring coolers both CCEP and supplier are compliant to nationally agreed plans
•    Assembling promotional displays if required (e.g. Point of sale)
At the end of the call, answering question sets about the call on our mobile app.
Please note: this role requires Saturday work and occasional evening work as part of your weekly hours. 
What We Expect Of You
•    Effective communication skills; building rapport with colleagues and in-store contacts as well as influencing customer is essential.
•    Meet customer needs with a flexible and proactive approach to problem-solving.
•    To use mobile phone apps for inventory and administrative purposes.
•    Manual handling of branded packs is a requirement of the role.
What We Provide
•    A 37.5 hour working week
•    Competitive salary
•    45 pence per business mile for 1st 10,000 miles and then 25p per mile thereafter
•    iPhone
•    Pension & Share plan
•    Host of flexible benefits
You Will Need
•    Eligibility to work in the UK
•    Use of your own car, a full driving license & business insurance
Before you apply, have you checked out the Coca-Cola European Partners GB website? Head over to learn more about life at CCEP or  ask a question that might strengthen your application. 
Application
If this role is of interest to you please upload a recent copy of your CV and a member of the Talent Acquisition team will be in touch.
We believe that equal opportunities means inclusion, diversity and fair treatment for all.
We aim to make our recruitment process as comfortable and accessible as possible and would appreciate it if you would advise us of any particular requirements, adjustments or requests you may have to help us ensure that your experience is enjoyable.
Job Information:
Location: Wimbledon
Apply
Meet
our people
No two stores are the same, and I love meeting different people everyday
Mohammad K
Merchandiser
See Mohammad's story
The
benefits
There are great benefits for hitting your targets and delivering a great customer experience. You can look forward to:
A market-competitive basic salary plus sales bonus to give you every incentive to excel
Phone, iPad and laptop, dependent on role. Company car for you to visit your customer base (not applicable to Merchandisers)
Flexible benefits programme for you and your family, covering savings and finance, wellbeing and lifestyle
Pension and share plan to help you prepare for the future