At CCEP we want to provide opportunities for young people to experience the world of work. Our summer internships and placements allow you to gain an invaluable insight into the world of Coca-Cola, whilst gaining valuable employability skills.
Summer
interns
As a summer intern you will have the opportunity to gain real experience and be provided relevant training to support your academic studies. You will have the opportunity to work as part of a diverse team, and you will work on a variety of meaningful work assignments and projects during your time with us.
We advertise at various points throughout the year for these roles. If no vacancies, please sign up for job alerts.
Abi White, QESH Apprentice
"In March 2020, I applied for the role of a QESH apprentice at Coca-Cola Europacific Partners (CCEP) – QESH stands for quality, environment safety and health. After researching the role and the company, I knew this apprenticeship was for me."
"Currently, I'm completing a BSc (Hons) Food Science and Technology degree at the University of Lincoln. At the same time, I work from our head office a few times a week. Previously, I was travelling weekly across the UK, visiting different sites and meeting new people. I go to new areas of the country I had never even visited before, mostly up north!"
"Working within the central team at CCEP has given me so many opportunities to talk to people with huge amounts of knowledge and experience. Last summer, I was working at the Sidcup site, where I was exposed to lots of business areas – including the chemistry and microbiology labs – and was walked through the whole manufacturing process of Coca-Cola from beginning to end."
"I have learnt so much and so many skills since I started, and I have three more years to go. My confidence has grown immensely, as well as my independence. I am so excited for what these next three years will bring me. I would strongly advise anyone to take the chance and apply for an apprenticeship here!"
Placement
programme
Our 9 to 12-month placement programme provides a great opportunity to have many new experiences, develop new skills, learn about the work of Coca-Cola and put your new found knowledge into practice, in a stretching role within our organisation.
We advertise at various points throughout the year for these roles. If no vacancies, please sign up for job alerts.
FIND OUT MORESign up for job alerts
Tony Augustine, Sidcup Factory Industrial Placement Student 2019-2020
"I joined the CCEP team in Sidcup in September 2019 to undertake a placement year as part of my Chemical Engineering degree. I was attracted to the idea of being able to gain real-world experience in a sector in which I had great interest, parallel to the completion of my degree. Within my placement, I could work across a variety of roles in the business, learn new skills and develop an understanding of what functions in industry suited me.
During my placement, I undertook an assortment of tasks such as troubleshooting issues on production lines and then presenting my findings to the Manufacturing and Engineering teams. I also gained the opportunity to work with external contractors and manufacturers on several commissioning projects, where I would be involved in large-scale improvements from start to finish.
The diversity of the placement was fantastic for my development, as I was able to independently tackle challenges within the role that I undertook, but also had the privilege to liaise with professionals across various departments and backgrounds. An achievement I'm proud of during my time at CCEP, was the creation of a matrix that analysed the Sidcup site's historical performance, as the ability to provide value to the company directly through my work was extremely rewarding.
I would thoroughly recommend anyone in university to seek out an internship, as the skills I have gained whilst being at CCEP has been invaluable to me across everything I have done since. I can safely say that I've developed both professionally and personally, due to these experiences."
Graduate
programme
We launched our 'University Talent Programme' in summer 2021. This programme involves either 3 or 4 rotations; depending on the programme that you join. Our first cohort have now joined, and we will be looking for our second soon. Come back here for more information.
FIND OUT MORESign up for job alerts
Jasmine Okonkwo, Supply Chain Graduate
"One of my favourite modules at university was on business operations, which made me realise how much I relate to distribution and supply chain management. After I completed my degree in July 2021, I began searching for graduate opportunities in this sector, which led me to Coca-Cola's Europacific Partner's graduate programme.
The application process for CCEP was very smooth; I filled out an application, and once it was accepted, I was invited to complete a series of online interview questions. My last step in the process was a face-to-face interview at the Coca-Cola's Europacific assessment centre, and about a week later, I was then offered the position on the programme.
I joined the four-year graduate programme in September, and I've been loving it. Everyone at the company is genuinely about the people; I've felt that from the first day I started. The four-year programme includes rotations around the whole organisation, so I'll be able to gain a deeper understanding of the business and feel a part of the fabric as I continue to grow during my time here."
Youth Friendly Employer
of the Year
Frequently
asked questions
How long are internships or placements?
A summer internship typically lasts around 8 weeks, and a placement is between 9 and 12 months.
What is the application process?
The application process involves three or four stages – firstly you apply online at the CCEP careers site for the vacancy, you are then sent a link to an online gamification assessment. If you are successful at that stage, you are then invited to either a video or telephone interview. The final stage of the process is an assessment centre.
What type of individual do you need to be to apply for these opportunities?
We are looking for ambitious students with effective communication skills, a 'can-do' attitude, the desire to learn and ability to work well with others.
What does the graduate programme consist of?
The programme will consist of either 3 or 4 rotations, this will be dependent on the programme that you join. The rotations will provide an opportunity to experience and gain insight into the functions areas of the programme and is likely to have a project assigned as part of this programme.
What are the opportunities to return to CCEP post my degree?
Post completion of your studies we welcome applications from our past placements or interns, if the vacancies are available. All opportunities will be posted onto our Early Careers job page.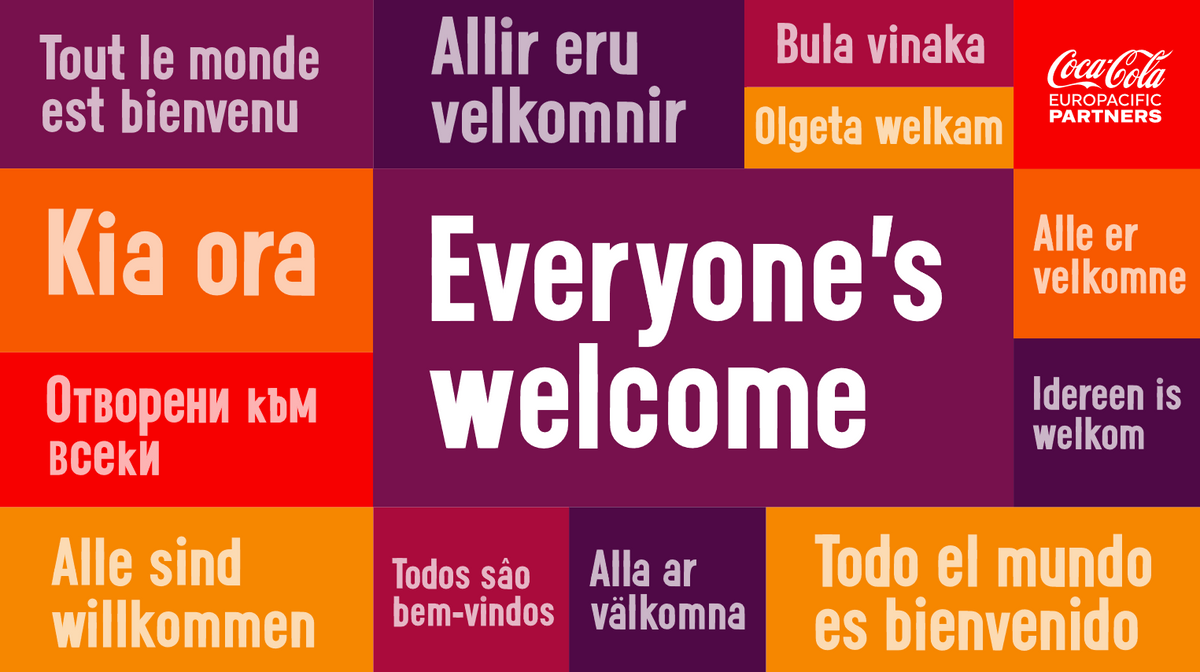 Everyone's

Welcome

For us, inclusion and diversity isn't about statistics. It's creating an environment where you feel like your best self and have people you can reach out to when you don't. Our answer is the Just Be Network, made up of CCEP employees organising events for issues we're passionate about, such as Pride and mental wellbeing. And not least, promoting equal and fair chances within our workplace.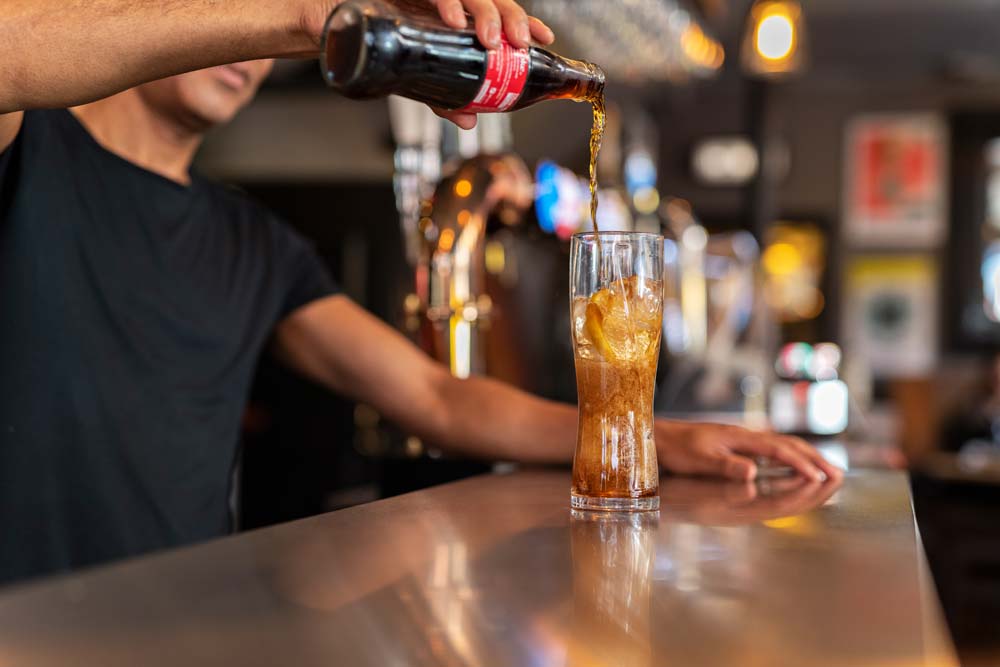 Sustainability
Sustainability is at the heart of our business and we understand we have an impact on our environment and the societies in which we operate.
Our sustainability plan includes a series of measurable targets for six action areas - drinks, packaging, society, water, climate and supply chain. These targets provide a clear direction for how we intend to work with partners across our value chain to be a force for good to build a better future - for people and for the planet.
Sound
interesting?
We are looking for ambitious individuals who want to learn and develop in their career. We are looking for determination and a passion to succeed in your chosen path. Just as important – we're looking for people who have the personality to bring our brands alive!